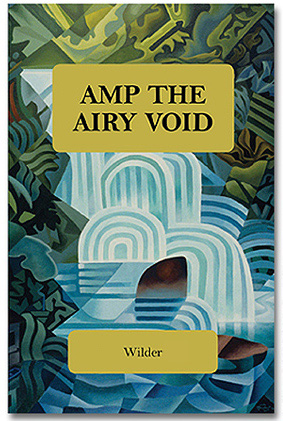 This irreverent book is coltish and captivating. As thought-provoking as any poetic worldview that's come along in quite a while.
Using language and imagery that's musical, lyrical, and philosophical, Mr. Wilder explores art, culture, science, history and nature. He evokes relationships both real and fantastical. He writes odes to the truth of nature, and to the nature of truth. All in a musical vernacular.
Mr. Wilder covers a lot of territory. He takes playful, wide-angle looks at love. He examines the world of work. He goes into a variety of milieus: art, culture, science, history and nature. Along the way, he brings to life an array of characters, both real and fantastical. Characters that serve as conduits for this author's colorful, whimsical, quirky worldviews. Violin playing penguins ride the bus. Tin cans expound philosophy. Well disguised space aliens check out Earth for colonization. Poignant, funny, surreal and surprising, Amp the Airy Void inspires repeat readings.
About the Author
This writer has a compelling story and unique background.
In the 90s Wilder helped promote mixed media and punk art happenings. In New York City these events started getting too popular. Overzealous local authorities squelched them. They ordered Mr. Wilder (then known as 'Bob Z') to pay five-figure fines. Mr. Wilder found himself railroaded into a five-year journey through a loaded court system. His offense? Creating flyers.
Wilder found himself encouraged and helped by Allen Ginsberg and Jello Biafra. This author's legal battles became a cause célèbre. His case took 5 years in the courts. But the end result became an important, impactful, precedent-setting victory for free speech.
Others have benefited from Wilder's significant free speech / first amendment victory. Like "Hope" poster artist Shepard Fairey. In 2007, this artist was able to cite the precedent setting verdict in Mr. Wilder's previous case. The end result? Mr. Fairey avoided a draconian (90+ year!) prison term he faced in Boston for street postering.
Notable historian & Harvard scholar Howard Zinn reviewed an early Wilder manuscript in 2009. Parts of this book are in Amp the Airy Void. Mr. Zinn volunteered enthusiastic praise for the work.
Mr. Wilder's writings are unique. Street-smart, entertaining, and surprising. Also a bit wistful. Wilder's experiences as a touring guitarist and singer are also evident in these writings.
The official publication date for Amp the Airy Void is coming up. CSM Press is making pre-publication copies of this first edition available to qualified reviewers. This is for a limited time only. So act fast. To arrange a book-signing event or an interview, e-mail CSM Press here.
We are a new press and have more great projects in the works. You can check back here soon to find out more. You'll get the scoop here before everyone else.
Click here to view sample content from Amp the Airy Void.