George Grosz

- Kelsey Wilder
George Grosz zeroed in.
Into human folly, grasping zeitgeist by its throat.
Poignantly he took apart convention and conformity.
Nailing its reality, a civilization in decline.

Pointing out pointlessness,
the horrors and the murderous evils of an ugly age.
Grosz a peerless visionary, peeling back its veils exposed
the underpinnings of corruption.

Effortlessly shedding light
on that milieus grim chokehold,
Grosz, unequaled social critic presciently foretold.

In my heart of hearts, I am outraged much like him;
marred each day by social failures
without and within.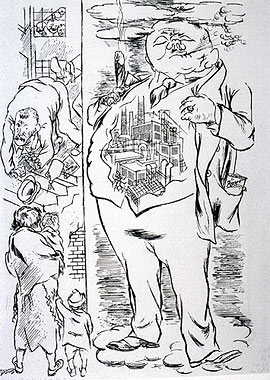 Above illustration by George Grosz, originally done in 1932
for Bertolt Brecht's children's book, The Three Soldiers
-Poetic text and audio above- copyright 2016 by Kelsey Wilder